History of Seocho-gu
Seocho-gu(Seocho-City) has established separately in January 1988 from Gangnam-gu jurisdiction.
This area which is bordered by Hangang River has been continually inhabited since prehistoric times and is the cradle of Korean civilization.
Artifacts unearthed from a group of dolmens in Wonji-dong and a dwelling site in Yeoksam-dong, Gangnamgu indicate existence the cultures from the Neolithic and Bronze Age.
In historic times, the Seocho-gu(Seocho-City) area became important as the capital of the Baekje Kingdom; one of the three kingdoms on the Korean peninsula.
The city, called Wiryesong (Fortress Castle) at the time was situated in the western part of present Seocho-gu(Seocho-City) and it appears that the remaining areas have been used for agriculture.
The full-scale development of this area was started in 1965 when the city government set up a basic development plan for this area to a sub-center of the metropolis.
Thus the first phase of the zoning project was started in 1968. In about 20 years, the whole area had been transformed into a urban sub-center from the rural district in the area of 47.14㎢ with 400,000 population.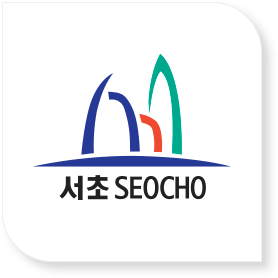 Emblems
The image symbolizes the warm-hearted, friendly people living together amongst the Hangang River and the fresh green spaces of Cheonggyesan Mountain and Umyeonsan Mountain.
BLUE :

Blue symbolizes the development of the city and a community blessed with a rich, calm life.

RED :

Red symbolizes the government officials who work for the residents and Seocho's status as a culture and arts center.

GREEN :

Green symbolizes the green forest that surrounds Seocho and its residents, providing them with a pure and fresh green space.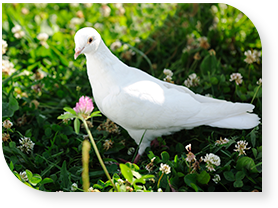 Bird
The dove have gentle disposition, are widely spread out in forests and grasslands.
It is also known as friendly birds that symbolize peace in which represents cooperation and harmony of the Seocho-gu citizens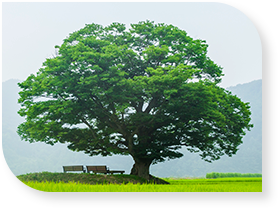 Tree
Zelkova TreeThe shape and the quality is good. Its large width will offer excellent shade and grows up as a large tree which implies infinite development of Seocho-gu.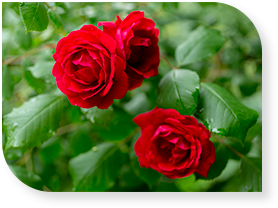 Flower
Rose It flourishes brilliantly and has strong fertility.
It symbolizes the prosperity of
Seocho-City.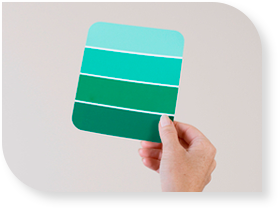 Color
GreenIt symbolizes pure, stability, tidy, peace, hope and conjures up a meadow, a forest, summer, mountains and beach which implies Seocho-gu that fosters and accommodates almost everything.